shopping_basket
Basket
(0)
local_shipping Fast Delivery Available
check_circle High Quality Products at Low Prices
credit_card All Major Credit Cards Accepted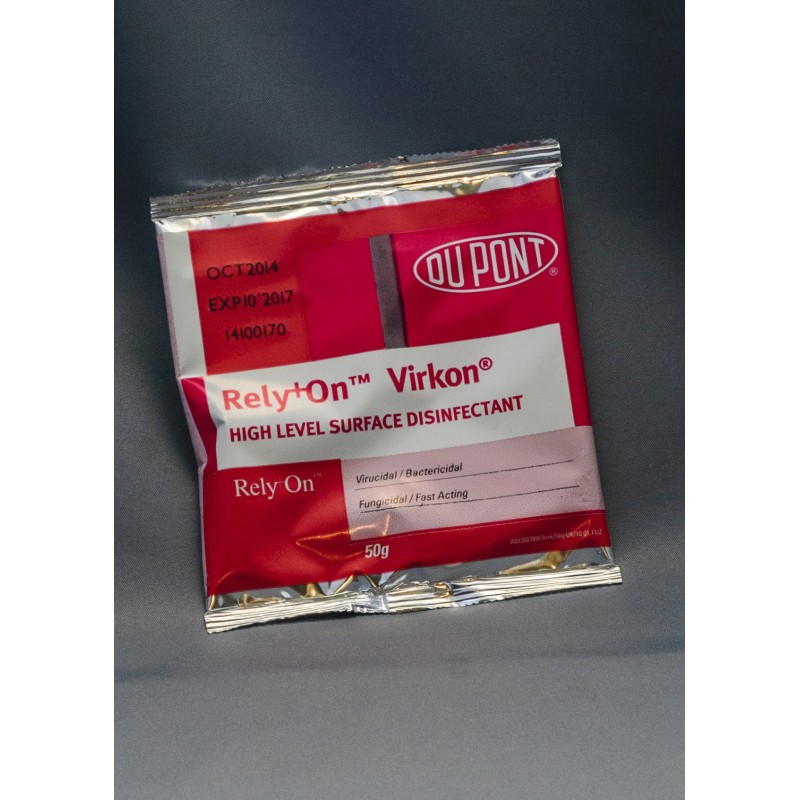  
Virkon Disinfectant 50g Sachet
Product Information
Rely+On™ Virkon™ Disinfectant Powder 50gm packets make up 5 litres of Virkon Disinfectant. Ideal for single use applications. Activates within 5 minutes & is viable for up to 5 days.
The 50gm packet of Virkon Powder makes up approx 5 litres of Virkon Disinfectant.

Ideal for single use applications.

Safe and simple to use - not classified as harmful to the user. It has a low acute toxicity, does not cause skin corrosion, does not cause sensitisation and is biodegradable.

Once placed in water, becomes a pink solution which is activated within 5 minutes. Built-in colour indicator of strength and use life up to five days after activation (1:100 solution).

Virkon is effective at killing 99.999% of microorganisms in less than 10 minutes.

Solution can be applied to surfaces using a spray bottle, sponge, mop etc. Any items that need disinfecting (not medical devices) can be submerged in Virkon solution and rinsed afterwards.

Proven effective against all major pathogens known to man and a wide range of antibiotic-resistant strains. After independent testing, also proven effective against:

300 strains/clinical isolates from 76 bacteria

47 strains/clinical isolates from 35 viruses

45 strains/clinical isolates from 17 fungi

The 50gm Virkon powder shelf life is 3 years from date of manufacture.